BocceFest 2016 Bocce · Co-Ed Tournament
Team Fees

Early Bird

$140.00 per team

Regular

$200.00 per team

Late

$240.00 per team
Individual Fees

Early Bird

$35.00

Regular

$50.00

Late

$60.00
BocceFest 2016

Join us for the 4th Annual Major League Bocce BocceFest on the afternoon of Saturday August 6th. The tournament will be held at 16 Mile Brewery in Georgetown, Delaware.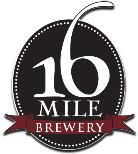 BocceFest Location
16 Mile Brewery
413 S. Bedford St.
Georgetown, DE 19947

Food & Drink
Enjoy $4 draft crafts and $3 bottles at the tournament. Food truck(s) to be announced soon.
Things to Know about BocceFest
Each team will be composed of 4 players. 20+ teams will face off in a tournament to determine the 2016 champion. When you are done with your game, report your score to a tournament manager.

How Do You Play?
BocceFest will be governed by Outdoor Bocce rules. Games will be played to 16 points or 1 hour, whichever comes first. See the rules page for more details.

Rain Rain Go Away
BocceFest 2016 will be played rain or shine. No refunds are available in case of inclement weather.

Winner Takes All
The team that ultimately reigns supreme garners bragging rights, a trophy, and more great prizes! Check back for more details. Good luck to all teams!

Stay Connected
Never miss an update: like us on Facebook and stay connected to BocceFest. Questions? Send an e-mail to mail@majorleaguebocce.com and we'll get back to you quickly.